It's been a year of COVID and claps, plaudits and pain. As the pressures of the pandemic start to ease, members are grateful to still have a job. And yet, at the same time, pay freezes and real term cuts are making it even harder to pay the bills. It's becoming clear that having helped the country through the crisis, public service workers are now expected to pay for it. Four UNISON members tell us how that feels….
Jackie Hamer, Environment Agency
Based in Newcastle, Jackie Hamer is a senior environment officer specialising in agriculture and land use. She's been with the Environment Agency since it was created in 1996 and is the UNISON's lead lay rep within the body.
During that time, Jackie has witnessed the amazing commitment of her colleagues in protecting the country's environment, despite devastating cuts.
"The government has all this big talk about wanting a new greener Britain, but I don't know how you achieve that when you are constantly cutting your key environmental regulator," she says.
And their efforts haven't been curtailed by the COVID crisis. "Our people have never really stopped working in the pandemic. We've been out making sure that our flood defences are properly maintained, we've actually had to cope with serious floods.
"We've got people still going into offices because we have sophisticated systems that monitor river levels, we work with the Met Office. And of course we still have to respond to things like serious pollution incidents – the polluters didn't take any time off during the pandemic."
Jackie (above) says that when restrictions were relaxed, "social distancing was practically going out the window" along the riverbanks that agency staff had to oversee, adding stress to their work.
In recent months, Brexit has also come into play for the environment. "We've got stockpiles of waste in some places, because we can't ship it anywhere anymore. And waste can be a really big fire risk. So we've had to maintain our response to all of that – and had to find safe ways of working to do it."
Most people are resigned to the fact that we're going to get a kick-in this year
She says that many of these same people are "really struggling" financially after years of austerity pay, with some colleagues having to use food banks. Last year UNISON calculated that, with RPI, overall Environment Agency pay has fallen by 25% since 2010.
"Our staff have had to do more and more, for less and less, for so long. The government really ought to try to restore some of that enormous gap that's opened up."
Instead, all but those earning less than £24,000 are likely to see nothing this year. Despite scheduled pay settlement discussions this July, she says, "My guess is that most people are resigned to the fact that we're going to get a kick-in this year."
On hearing of Rishi Sunak's declaration of a public sector pay freeze, she says: "I was very disappointed, but also unsurprised. Everybody knew that the public sector was going to pay the price for the pandemic, even though the public sector are by and large the ones who have kept the show on the road.
"All this talk of levelling up – I'll believe it when I see it. They've spent years of doing the opposite. I just don't see many grounds for optimism, sadly."
And yet, she says, her colleagues are undeterred in their efforts to protect our environment. "It's a really, really committed workforce. They will still carry on, they always do."
Zoe Rodgers, support services team leader
"An absolute kick in the teeth." That's how Zoe Rodgers describes the chancellor's public sector pay freeze. "You just get so disheartened. Why have public sector workers got to foot the bill for the pandemic? We are the frontline staff – we are the ones who have kept everything going."
Zoe is a support services team leader with South Somerset            District Council, managing both the council's IT and its legal            case officers. She's also UNISON's branch secretary, a joint deputy regional convenor and an NJC rep. She's had her hands full in recently.
She has nothing but admiration for her colleagues across the council, from housing officers supporting the homeless, to contact centre staff making calls to local people to ensure they're OK, from environment officers helping with track and trace to colleagues who retrained in order to administer emergency grants to struggling businesses.
Zoe herself was among the many council volunteers who have been volunteering to support the vaccinations programme.
"They have worked tirelessly and selflessly throughout this last year, to support our local community, to support those most vulnerable, putting themselves at risk," she says.
And so the clapping for key workers and platitudes of "we're all in this together" ring hollow when pay freeze is all they get. "You feel so angry."
Fair pay for council and school workers
She describes herself as "a stereotypical millennial" who at 30 is still living with her parents because she can't afford to move out. The year has been tough on the family: her mum, who works in the care sector on minimum wage, has been unable to work since March 2020 due to suspected Long COVID, and her dad, a coach driver, has been furloughed for the same period. "I'm fortunate that I'm able to support my family," Zoe says.
Working from home for a year at least enabled her to save money, for example £200 a month in petrol costs. But she's aware that her eventual return to work will coincide with a hike in the cost of living caused by Brexit.
"That's the elephant in the room. The cost of living is just going to go up and up. The only thing I'm looking forward to with the pandemic is getting some of our freedom back, to go out, but we can't afford to do anything."
Zoe hasn't given up hope on UNISON's efforts to win a pay rise that recaptures what's been lost over the past decade and ensures its members don't have to struggle financially.
But as branch secretary she's had some surprising feedback from her members. "For me, the biggest thing is that our members don't feel they deserve a pay rise. You always get the same answer – when they look out and see that other people are getting made redundant, they're just happy they've got a job.
"One of the things I'm trying to do is get members on board and say, 'Actually, you deserve this'."
Imran Khan, security officer
The pay freeze would be bad enough if it was normal times. But to do it in the middle of a pandemic is almost evil. How do you do that?
As a security officer at City University in London, Imran Khan has worked throughout the pandemic, including most of the two lockdowns. As he puts it: "There always has to be security. We did not have much of a choice."
For a year he and his fellow security officers have kept the university buildings safe and secure. They were there waiting as the first few lecturers and students returned to labs, to carry out work in relation to the pandemic, then as more and more filled the halls. And they endeavoured – against the odds and at their own risk – to persuade the students to conform to the COVID rules and keep everyone safe.
And yet, when it came time for their pay rise last August, nothing happened.
"We feel like we've been let down, that the pay freeze was uncalled for," he says. "There's a lack of appreciation, considering the amount of work and effort we put in. We put our lives in danger coming into work, we are frontline staff, we come into contact with many different people and obviously that's how the virus spreads.
"The pay freeze would be bad enough if it was normal times. But to do it in the middle of a pandemic is almost evil. How do you do that?"
UNISON is asking the same question. After HE members voted unanimously to reject the 'insulting' pay freeze, the union lodged a dispute with the employers, the Universities and Colleges Employers Association (UCEA) and is considering future action. Adding insult to injury, the UCEA has since made another 'disappointing' offer for 2021/22.
Meanwhile, Imran reflects on the double whammy of pandemic and financial insecurity.
The "extra stress, extra work, extra load" created by COVID has taken its toll on the security team, particularly because of student resistance to social distancing and face masks. At the same time, the cost of living in London is "almost impossible," he says.
"Everything's going up, except for pay. You've got nothing to spend on leisure, or holidays, it's literally just pay your bills, try to feed yourself and get on with it. The pay freeze is not helping. How can they not see the difference between the cost of living and the salary we get?"
But like many of UNISON's members, Imran remains philosophical. "Yes, we are struggling, but the way I always look at it, there are people much worse than us in the world. That's how you motivate yourself to carry on."
Le'Asha Gabriel-Richards, critical care nurse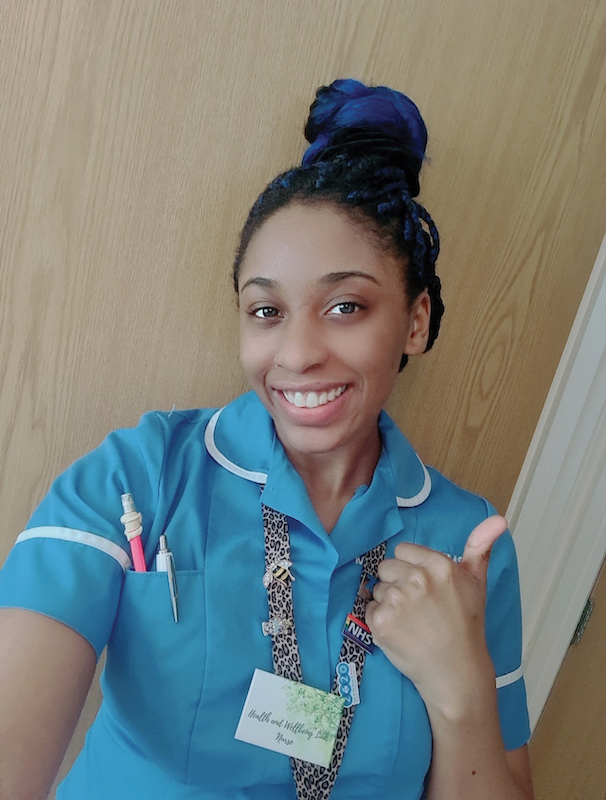 A critical care nurse in Manchester, Le'Asha Gabriel-Richards looks back on how she's worked relentlessly throughout the pandemic, with a greatly increased workload.
"Day and night, I've been working as a nurse while also providing training to colleagues who have been redeployed to help – trying to keep patients alive and safe, while trying to make sure the deployed staff aren't overwhelmed," she says. "It's been tough."
Le'Asha describes the 1% pay rise offered by the Westminster government to NHS staff in England as "hurtful" to all who have worked tirelessly for the last year.
"Everyone jumped in without a second thought, and that's what hurts the most. We all came together, without questioning, to face whatever came. It's not even about the money itself, it's the fact that, after everyone's hard work, the government doesn't think we're worth more.
"To me, the 1% is a dismissal of how hard we've all worked. What we've experienced is so traumatic we can't even process it yet. We all went into autopilot and we had to detach ourselves emotionally. There was just so much death, but we had to get on with it."
Give all NHS staff a decent pay rise
UNISON's most recent mental health survey found that almost half (48%) of all health workers across the UK say they are struggling to cope.
So for Le'Asha, it's not just about pay, but broader recognition. "We deserve gratitude and appreciation. We didn't come into this job for the money, and in some ways it's hard to put a percentage on the recognition that's needed. But 1% is just an insult. And even if it is just 1%, they still could have given additional annual leave or more access to mental health support.
"We just haven't got the stamina to do it all again if there's another spike. We haven't got it in us to keep giving 100% when the government only thinks we're worth 1%." ♦